GearGrip - LT
Computer Carrying Harness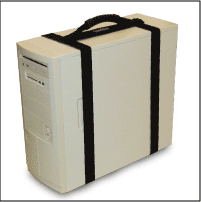 The GearGrip-LT is perfect for anyone who wants a simple way to get a handle on their computer system. This harness is made with the same high quality construction as the GearGrip-Pro harness. This harness features:
Premium soft-grip handle

Aluminum stiffened structure for better stability
1.5" heavy duty webbing and hardware
Fits computers up to 60" (152 cm) in circumference and up to 70lbs (31.75 kg)
Quality extras like triple bar tacking on the handle and buckle bumpers to prevent damage to your case.
The harness is designed to be left on the computer during operation. This is perfect for students, technicians and gamers who need to move their computers.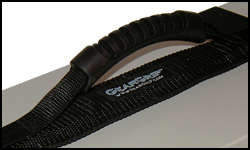 Soft-grip handle comfortably fits your hand
The harness has a depth of 12" (front to rear). This may be too large for some super mini computers.