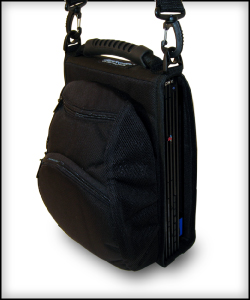 Console gamers now have their own GearGrip gaming harness. We took our years of game gear experience and created this awesome Limited Edition gaming harness for the first edition (larger) PS2 system and Xbox 360 systems.
NOTE: Xbox 360 systems have overheating issues and run very hot with some games. For the Xbox 360 we recommend that the gaming system be removed from the harness while playing. This is not required on PS2. Also note that the hard drive module must be removed and stowed separately on the Xbox 360 (if your system has one) in order for the harness to properly fit the Xbox 360 case.
Features Include:
Game-and-go compact design
Side Pod pouch holds Game discs, 2 controllers, cables, memory cards and more.
Ballistic grade black nylon exterior (nice!)
The trademark GearGrip soft grip handle
Padded harness exterior protects the system
Shoulder strap included
This is perfect for taking on the road and gaming on in-car DVD systems or for heading across town to game with friends. All of your gear is in one spot and when you get there there is no need to unpack your system. We invented LAN Party gaming gear for the PC, now you can have the same for your PS2.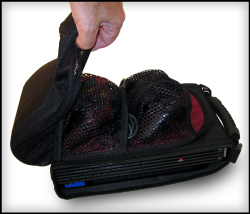 Shown with Red interior. Current product has blue interior.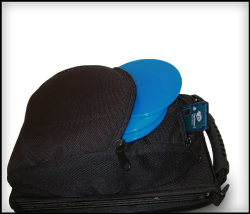 Controllers, memory and CD cases not included unless otherwise indicated.
Premium handle has a soft-grip and is flexible to conform to your hand.
Slip your PS2 system in the side and there it stays, wrapped in layers of padding and Ballistic nylon.
This is a limited run of product. You won't find this level of quality in other "lowest bidder" gaming gear. Gamers who know, trust GearGrip.
Note: This is designed for First Generation PS2 systems with the front slide out CD drawer and not the thin second generation systems.