Black and Grey Color are SOLD OUT and is no longer available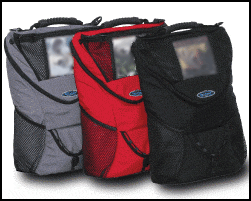 The GearGrip LANBag was designed by LAN gamers for LAN gamers. At about the same price as your average backpack the LANBag is loaded with features designed specifically for people who need to transport computer accessories and gaming gear.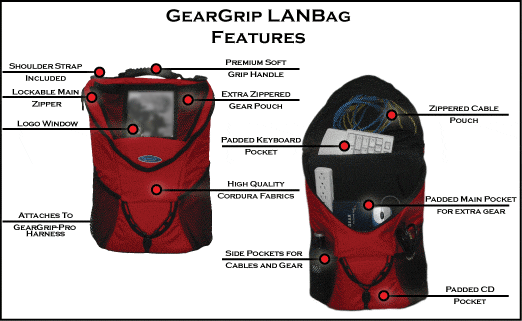 What makes this product unique? TONS!
The main packet (4" x 11" x 11+") is fully padded and holds gear such as hubs, power strips, headphones, mice, etc. The fully padded keyboard pocket is extra wide (13") to handle ergo keyboards (max length 19"). Add to this 4 various gear and cable pouches and your gear is managed!
Additional features include a padded CD pocket (3 std jewel case capacity); a lockable main zipper to keep fellow LANers honest (requires luggage lock, not included) and our unique Logo Window where you can slip in your favorite game or music CD cover or your clan logo, LAN logo or alias. You decide! Just so you won't frag your gear before you frag your friends we make this bag out of high quality US Cordura brand materials to withstand even the harshest LAN party road trip.